While we were in Panama City we decided we should take a look at a few boats that were potential candidates for us in the future. Most likely none of these exact boats will still be on the market in a year from now but it was important for us to get an idea of what condition boats were actually in that would be in our price range. It's one thing to tour beautiful, brand-new boats at a yacht show and something else entirely to get a look at what we could realistically expect for $50,000 or less. We were a little apprehensive before going in though cautiously optimistic due to the amount of research we've already put in.
First up was the Morgan 41 Out Island. We have seen a lot of these on the cruiser's forums as recommended family liveaboards (though it didn't make the Mahina list). It has two good-sized staterooms and a nice big settee as well, so I can certainly understand why families with kids would like it so much. The center cockpit was also large and spacious and would certainly make a great space for entertaining. There was a lot of storage space throughout the cabins and the extra living space in the aft master stateroom would make for a relaxing retreat.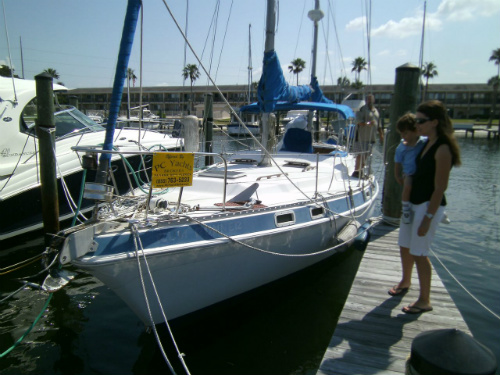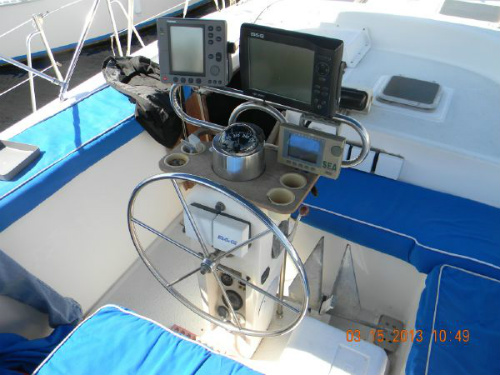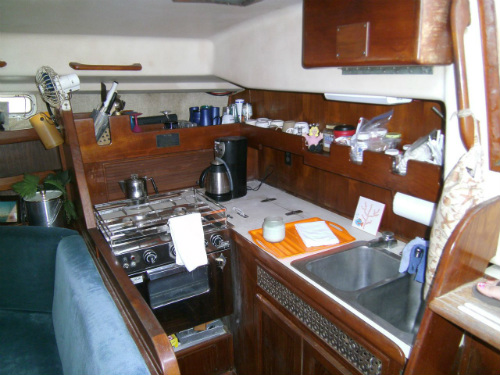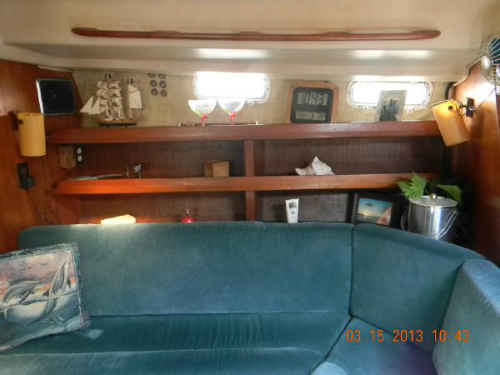 There were only a few negatives (in our opinion, they might not be for others) that we noticed about the boat. First, we aren't very big fans of having 2 heads aka bathrooms on a boat. That might not seem like a problem, but we figure it's wasted storage space and more hassle to deal with. Also, the walk-through hallway is pretty darn tight, as in Dan and I could not pass each other at all and we aren't very big people. There is plenty of cabinet storage but I have a feeling that it would be somewhat cumbersome to use with how narrow the hallway is and it would be especially tight trying to work on the engine which is also accessed there. Overall, the Out Island was a very nice boat and one we wouldn't be disappointed with, but we just weren't really feeling it. (This particular one at least. The Out Island can be found in many different layouts and every boat is different.)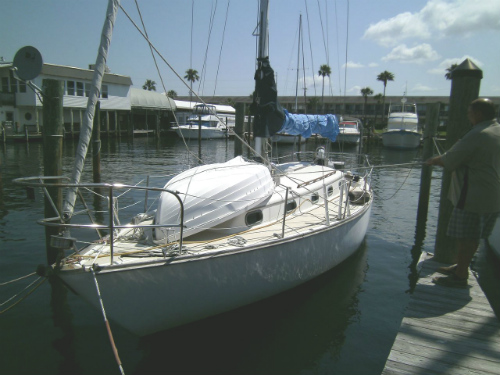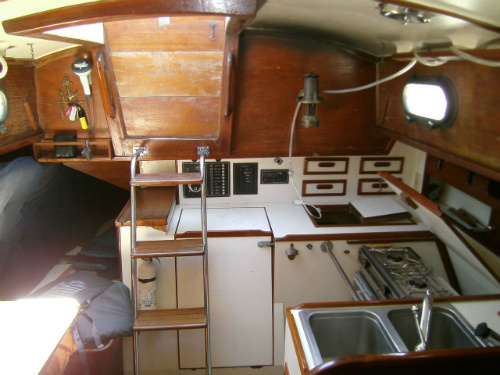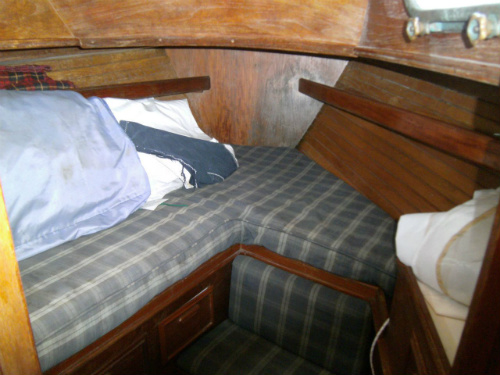 The next boat that we saw was a Cape Dory 33. To be honest, we really should have looked at this one before the Out Island instead of after. We came away feeling like it was just too small for us which was compounded by the fact that this specimen wasn't very well cared for and had a lot of junk piled inside of it. I think even a nice one would probably be too tight of a squeeze for 3 people, but it could make a good cozy boat for a couple. The galley area was actually more spacious on the Cape Dory than the Out Island with more working counter space, but that's about the only thing that was bigger. One of the most pressing issues that I would have living in this boat is not just the living space but the non-existent storage space. I don't think that our SCUBA equipment would be able to find a home on this little boat and therefore neither would we!
Luckily, the next two boats we toured were ones that we would be thrilled to pick up when the time comes but we will save those for next time!