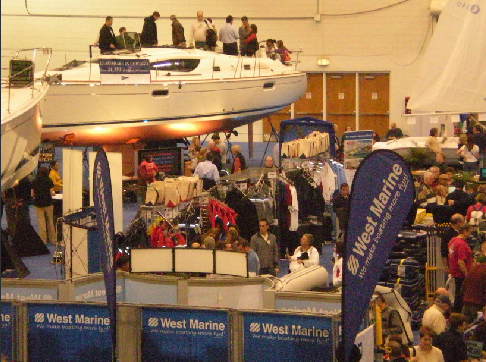 Whoever first started scheduling Strictly Sail Chicago in the middle of January was a genius. Winter has never been our favorite part of the year (hello, planning to move to the Tropics for more than just the piña coladas) but this year has been doubly hard with the knowledge that we could have moved to Florida instead of staying here to pad our purse a little more. This past Saturday we were able to leave winter behind for a few hours and spur the excitement we've been missing for the last couple months. Just one day of being able to talk openly with people about our dream of cruising does wonders for our attitudes.
Three Cruising Budgets, Snapshots from the Life of Jimmy Cornell, and Perspectives from a Cruising Couple seminars filled our schedule. These seminars weren't really intended as fact finding for us, in fact we hardly learned any really new information at all. What they lacked in new information, they made up for in validation and motivation. It's one thing to read a bunch of cruising blogs and forums and compile a $1000-$1500/month budget that we think is realistic; it reaches the next level to hear the founder of Blue Water Sailing confirm that for us in his Three Cruising Budgets seminar. (He actually described four budgets, but the highest was labeled "Silly and Unnecessary" aka why are you even in this seminar, just go hire a 5 man crew for your million dollar yacht.)
The boats were what we really wanted to see. We won't be buying a new boat when we leave, of course, and we probably won't even be looking at buying a used version of any of the brands available to tour due to quality and dependability recommendations; what we wanted was to feel the size of the living space. Last year, we hadn't done a lot of research into boats when we came and toured all of the boats. We left that day saying, "yeah, the smaller ones are okay, but I think we should look at boats in the 40-45′ range." And look I did…at the price tag. There are hardly any good boats on the used market in the 40-45′ range that are under $50,000, and especially not ones that are close to being ready for ocean voyaging.
This year we needed to go in with the question "what can we do" instead of "what do we want to do". It's amazing how much that question changes your perspective, because we quickly realized that 30-35′ boats would probably do just fine for us and one little boy. (Depending on the boat, of course.) We are now looking for boats in that range with one cabin/quarter berth layout or two cabin layout (which is much harder to find in older boats that size). To be honest, I was a bit shocked to see how much that downsize of 5-10 feet slashed the price tremendously. If you search yachtworld.com for boats 38-45′ in the US between $30k-$50k, you get 197 boats boats to choose from. And let me tell you, they aren't exactly the cream of the crop most of the time. If you search 30-38′ instead, you get 757. That's a significant difference in selection, making it much more likely for us to be able to find what we are looking for in our budget.
While we had intended to stay for 2 days of the show, winter fought back and forced us to return home early with a nasty ice storm that came through Chicago on Sunday. We didn't want to brave the ice in my mom's car that she let us borrow – Thanks Mom! – because my brakes went out just as we were getting to their house Friday night. (Whole story in itself.) It seems that we will have to wait until next year to get a good second day, since last year Dan spent most of the day on his back on the floor outside of the bathroom of Navy Pier or puking his guts out inside of said bathroom. Even just one day though was enough to refuel our systems until the end of the dreariness when we can start sailing and diving again.