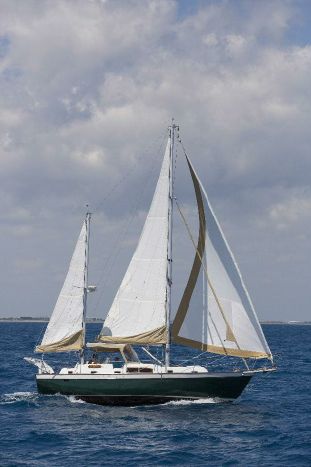 Let me start by saying that I never expected our 100th post to include the introduction of our boat. When we first started almost three years ago, we didn't really know where to begin. We Learned to Sail the Hard Way and then decided it would be better to just take some lessons. Dan got certified as a Dive Master then Instructor, and we also learned that it's better to just pretend to be a Rescue Victim. The Search was on for a boat this year but some days it felt like we might never get to this point, especially when we received the call from our broker that the Cabot 36 had sold. With a little luck and a lot of prayer, we've made it to the next stage of our journey.
We spent nearly 8 hours in the boatyard this last Saturday looking at boat after boat, but none of them felt like home. That is until we looked at the last one on our list: the Irwin 37 center cockpit. To be completely honest, we had all but written off this boat during our search. Generally, they are known for being a mid-range quality production boat from the 70s and 80s and frankly didn't have the best online reputation. When our broker mentioned that he had one he would like us to look at, Dan and I basically just did a bit of an eye-roll and shrug "might as well look at it". Little did we know.
Let me stop here to say that we had a fantastic experience with the broker we used but by request have not listed his name, since he would like to go cruising eventually as well and would prefer not to be known as the "broker guy". He was extremely professional, very easy to get a hold of, and has a true passion to help people get into boats that they are going to love. His listings are some of the most thorough that we have seen throughout the country. If you are looking for a boat or thinking of selling yours in South Florida,  just shoot us an email through the Contact Us page and we would be happy to recommend him.
As the broker described Tortuga (current name until we can close the deal), the one word he kept using was anomaly. This boat may be nearly 40 years old, but every major system on the boat had been completely redone in the last 3-4 years. New rigging, new masts (its ketch-rigged), new staysail (make that cutter-ketch), brand new full suite of sails, top-of-the-line electronics, new beefy windlass, dodger and bimini, and the list goes on. Over $100k of upgrades and renovations really sweetens the honeypot when our total budget for boat and outfit is only $50k.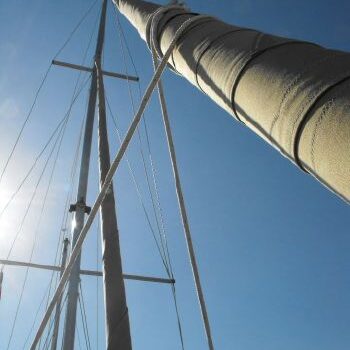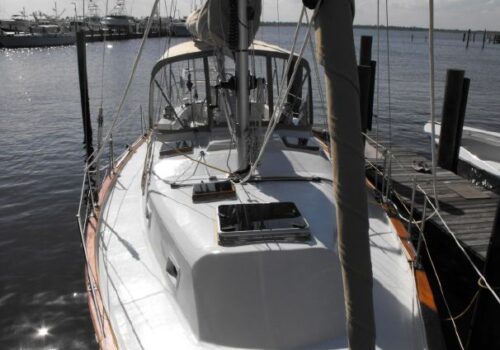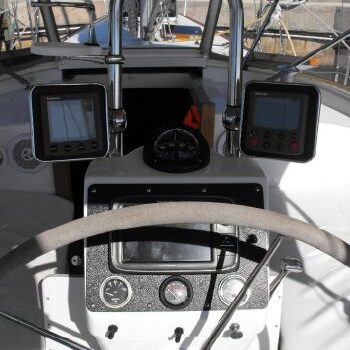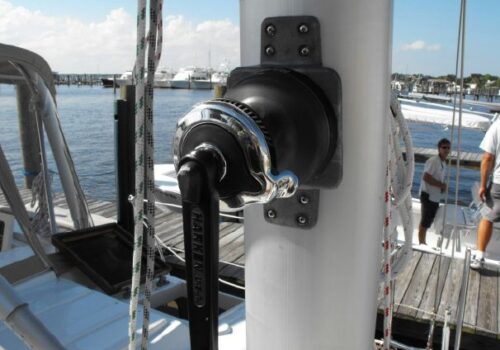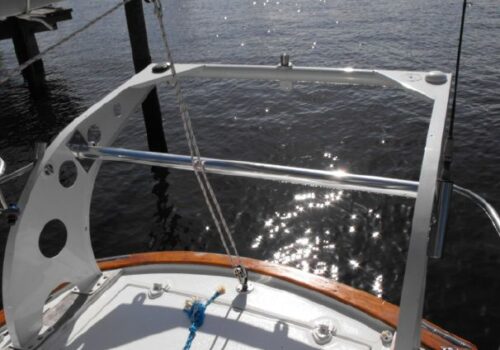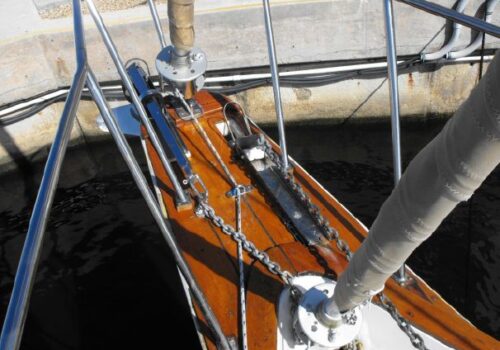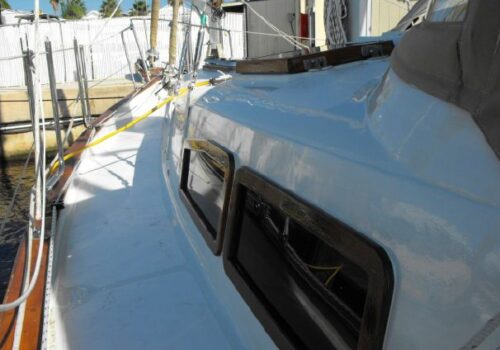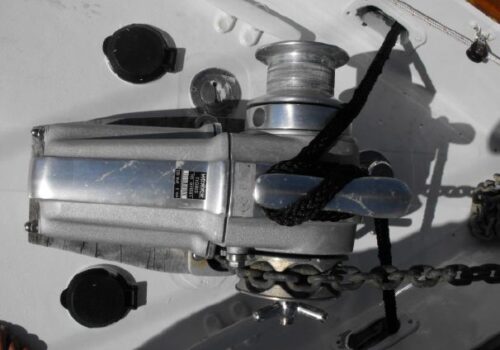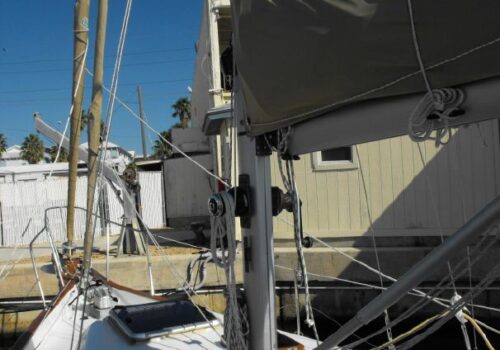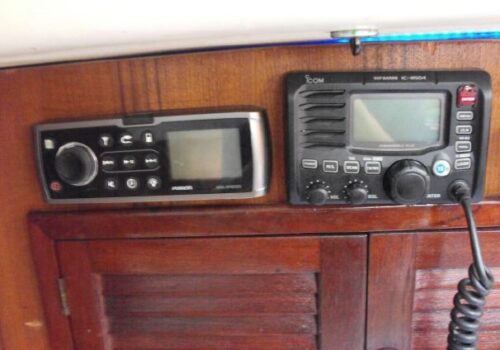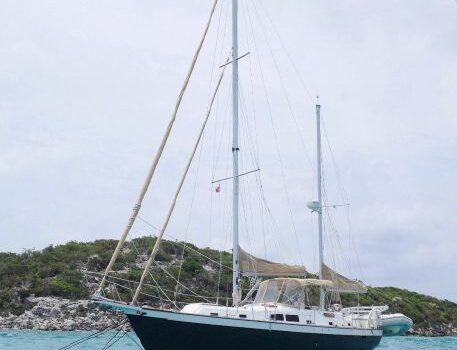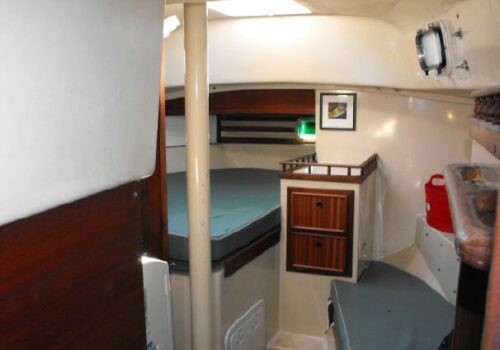 What's the ketch you ask? Okay that was bad. Well, the person who did all of these upgrades (the owner of a major sail maker company we found out later) decided after pouring in all of the money that he actually wanted a bigger boat. So he dumped it before the interior was completely spruced up. Some of the cabinets need to be rehung, the headliner needs old holes filled and painted, the wiring needs to be organized, and some of the plumbing needs help. Luckily, everything that needs to be done are fairly easy and cheap fixes but they currently make the interior somewhat less than desirable to most buyers, especially when compared to what you expect to find after seeing the immaculate exterior. Bad news for the seller, great news for us.
Some people might be wondering right now what happened to our Blue Water Boat criteria? Well, the fact of the matter is, we've come to realize like so many others that every boat is a compromise. After seeing what types of boats were available in our price-range we quickly came to the conclusion that the heavily built offshore cruisers just were not going to work for our family. With our short to mid-range plans being to cruise the Bahamas and Caribbean, we believe the Irwin will be a safe and functional home for the three of us. If in the future we decide to head offshore, we will meet that challenge head-on as we always do.
We hope you will continue to Follow the Horizon with us as we continue into the next exciting stage of our journey.