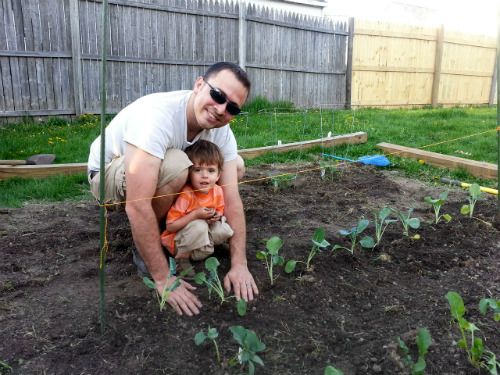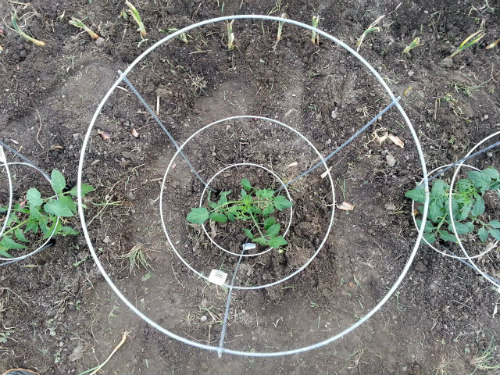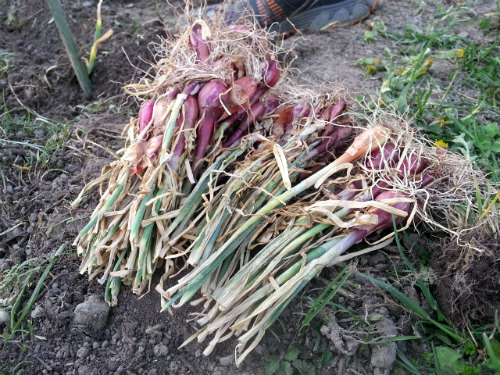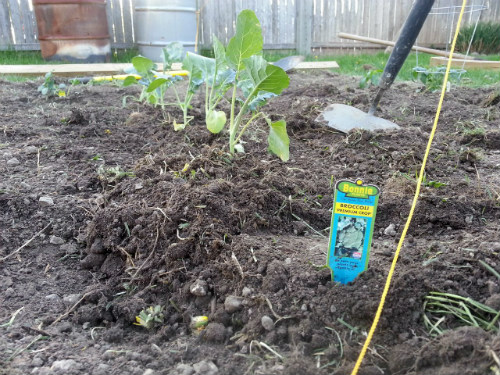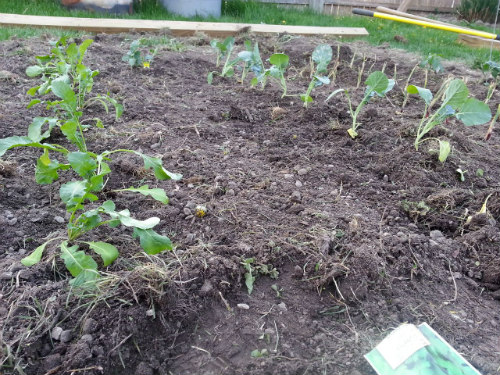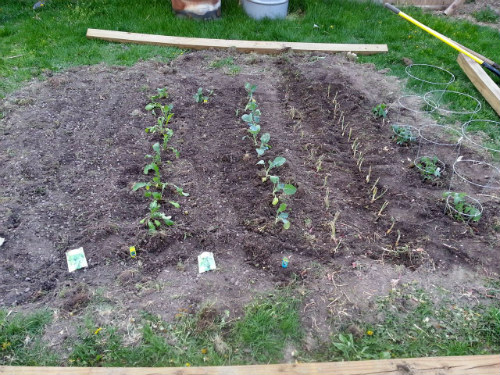 As part of our new eating-at-home regimen, Dan and I decided to make a small garden in our backyard this spring to help get us some healthy, fresh food options. Last year, we attempted to solve this issue by joining a local CSA (Community Supported Agriculture) group where we bought a "share" of local farmers produce crops that we could pick up once a week. As noted in our post Julia Who?, we didn't do too well with making use of the many unknown vegetables that ended up in our kitchen so we decided to try out our green thumbs this year.
We started by picking out a spot in our backyard and tilling it with a borrowed gas-powered tiller. A few things came to our attention pretty quickly. First, the soil in our backyard is amazingly rich and black, as in potting soil black. A neighbor told us later that our house used to be the "manor" on a large apple orchard that encompassed most of the neighborhood in years gone by. Because of this, we didn't need to add any additional garden soil to our bed but just added some tasty cow manure fertilizer. (Carter kept telling me very seriously "there's cow poop in there, Mommy." I think he was concerned.) The other thing we noticed was that one side of the garden is almost certainly located over an old gravel driveway which we didn't realize until after tilling the whole area. Now we have some nice white rock mixed in with that row. Oh well, you win some you lose some I guess.
Next, we attempted to shop the local greenhouse by bike to pick up our preferred crops but unfortunately had to defect to visiting Lowe's when we couldn't find much more than flowers. I mean, flowers are nice and everything, but I'm more of a practical girl myself. If I'm going to be down in the dirt, I'd better be getting something delicious out of it. We returned with 3 tomato plants, 1 red bell pepper plant, 1 cucumber plant, a bunch of red and yellow onions, broccoli, arugula, and seeds to grow lettuce, spinach, and cilantro. Being the gardening noobs that we are, we weren't quite prepared for the amount of plants that 1 little tray actually buys you. We are going to be eating a lot of broccoli and onions in the coming months, that's for sure!
This week we had a bit of a frost scare (in May, seriously?!) but luckily didn't lose any plants. Our seedlings are all popping up on schedule and we are looking forward to some fantastic veggies in the near future. Last night we harvested our first small batch of arugula and it was certainly worth the effort! We'll keep you posted on whether the rest continues to produce such excellent results.