We're Still Alive!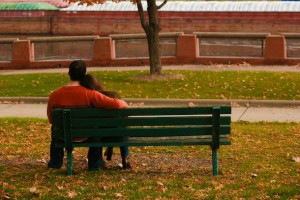 So, I realized today that's it has been a good three weeks since our last blog post. Holy cow! I'm sorry we have been such big slackers for the last couple of weeks, it's been crazy at our house! We fully intend to never go this long without a blog post again, dear reader(s). *Scout's honor* (ok neither of us was ever a Scout, though I was in Girl Guards for a while.)
Anyway, the biggest thing that's been happening lately is we are working furiously to prepare our house to sell it. I've been sorting through clutter and giving things away to Goodwill for a couple of months now, but over Labor Day weekend we got down to some serious business. I'm talking scrubbing toilets, trimming bushes, repainting doors and trim…serious business. We made appointments for last week with a couple of local realtors, so we wanted the house to be in ship-shape (pun intended) before we had people coming in to determine the value of our house. It was certainly the most laborious Labor Day in my memory.
Finally, the day had come to find out how much our house is worth. Kind of. We had done some of our own market research on our area and similar homes to ours before calling for an outside opinion but it was still nerve wracking. What would we do if the professionals thought we were way over-valuing our home? I actually had a nightmare that all of the realtors came back and told us it was worth less than we owed! It is a rather frightening proposition because we are essentially counting on the sale of our house to fund the purchase of our future boat.
Luckily, the verdict came back very favorably. Two of the realtors (both of whom we had already liked) came back with the exact same recommended list price, which was only about $5,000 less than what we had thought on our own. I think we did pretty well considering how much more training they have in the business than we do. The third realtor was waaay out of the ballpark, suggesting a list price lower than what the house was purchased for in 2003. We actually just laughed at her, especially because we had already written her off after our original meeting with her. She obviously just didn't know what she was doing.
All-in-all we got some good advice, and have chosen our listing agent for the house. We'll keep you posted on some of the things we did to spruce up the house for almost no money and what the agent's home staging specialist has to say as well. The best thing is, we're finally moving forward and my house has never been cleaner!