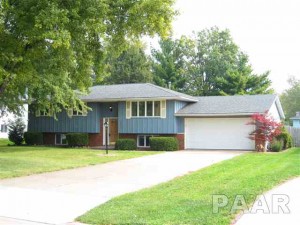 Last Thursday Michele and I received the call that we had both hoped would come, but had nearly given up on… a legitimate offer on our house. The offer was over 9% less than our asking price but at least we had some action! Let me back up a bit… We had grown disheartened at the numerous showings, followed by exceptionally minimal second showings, followed by a complete lack of offers. "The street is too busy," "loved the house," "buyer showed interest," "great kitchen!" were all followed by a noted lack of action on the buyers' parts. With that in mind, you'll understand why we were excited to get any offer (even one that was almost 10% lower than asking price). We had talked about the price and had settled on 93% as our lowest acceptable price, definitely in range for this buyer. Our goal was 97%, however. After a few tense rounds of negotiation we were able to come through with our exact goal… right on the dollar.
We now are faced with weeks of inspections, tests, and (hopefully not) the possibility of more negotiations over any requested repairs. Our house is in exceptionally good condition so any requested repairs are most likely nit-picky (that doesn't sound biased, does it?). Thankfully we were able to get the buyer to agree that no repairs would be made as a result of these inspections.
We looked at each other once the last counteroffer was accepted and Michele said what we were both thinking, "Now what?" We had been focused so much on getting our house sold that we hadn't thought about the actual possibility of it selling. Crazy, I know. Now we are at a cross roads. We can find an acceptable apartment for a couple hundred dollars less than we were spending on our house, providing a decent boost to our future cruising kitty. We can also purchase a "starter/rental" house and spend almost nothing, we're talking less than a normal car payment here, per month. The second option saves money over time but is also the riskier option. We would have the opportunity of renting the house after we are done with it, or selling it and (hopefully) making a profit. There is, of course, that nagging possibility that it wouldn't sell or sell for less than we bought it for. Either way the bottom line is we are making progress.