We Got Our Wet Suits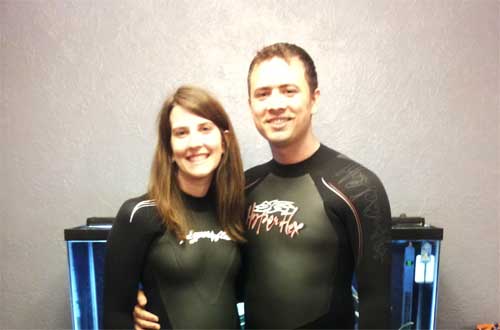 Our Plan B for money issues while cruising is for me to be a PADI SCUBA instructor. I'll cover everything that entails in the future (check out our To-Do page in the mean time), but for now you get to see Michele and I in Batman/Cat woman mode. Sorry about the poor image quality, we forgot our real camera and used a cell phone instead.
Living in Illinois and being relatively new to the awesome world of SCUBA, we have always rented our gear. The cost around here for a complete gear rental is only around $50-$60 per day, so it was cheaper than buying our own set. With me completing advanced class and starting training for Divemaster in May it has become cheaper to own my own set of gear. SCUBA gear is like anything else… you get what you pay for. I really need the gear that I am purchasing to last because our income while cruising will be significantly lower than it is now. That means no running out and re-purchasing a $2000 gear package. I've ordered a complete SCUBA gear set that I will do a review on once I get it wet, but for now we can show off our flashy new wet suits.
Instead of the multi-hundred dollar models we decided to go with an entry level (but highly rated) surfing wet suit. Surprisingly surfing wet suits are commonly recommended over SCUBA wet suits due to the suits being built to withstand the rigors of chafing on a surfboard, the sand, rocks, etc. We settled on the Hyperflex Cyclone series for around $100-$150. Same material, same material thickness, etc but half the cost.