Underwater Confessions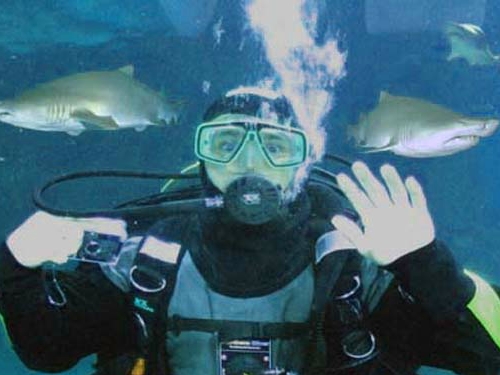 I have a confession to make. I'm afraid of water. Growing up, my whole family was uncomfortable when in the water. I didn't learn how to swim until I was eight years old, and I'm sure that Carter will be a better swimmer than me by the time he's five. I don't even like getting my face wet in the shower…yea, it's pretty stupid I know.
A year ago, Dan started talking about getting our SCUBA certifications. Kyle and Becca, his brother and sister-in-law, had already gotten theirs and went diving in Mexico for their honeymoon and had really enjoyed it. The idea of scuba diving made me want to hyperventilate… which is somewhat ironic considering that I've willingly jumped out of a plane three times and I would have no problem doing it again. I just don't like to be underwater. But I decided to go ahead and bite the bullet; if Becca could do it, then I could do it.
For the most part, our class was uneventful. I wasn't even the worst one there! The only problem that I had was taking off my mask underwater and having to clear it again (see above statement about getting my face wet.) It was time for our certification dives at Haigh Quarry in Kankakee, Illinois. I wasn't too worried, because I knew I could do everything. Unfortunately, I had decided to buy a new mask from our dive shop and hadn't tested it yet. Bad idea. As soon as I would go under water, my mask would instantly start filling with water. I am ashamed to admit that I started freaking out, not quite hyperventilation, but definitely freaking out. I was done with this. Luckily, our instructor that day noticed my problem and traded masks with me so that I could complete my dives. Poor guy had to wear a pink mask all day.
I'm happy to report that while I'm not entirely cured of my fears of the water, I do really like scuba diving. Diving in the Caribbean was one of the most amazing things that I have experienced. For now, I'm happy to just go diving with Dan. I'm not interested in starting Divemaster training like he is until I am significantly more comfortable. However, there is something to be said for facing your fears. The confidence earned is definitely worth the cost.