"Swept" Away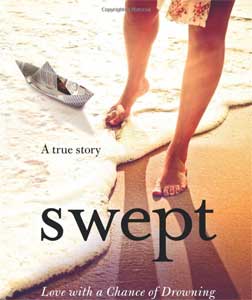 Most people wouldn't think that the best way to handle a fear of the ocean is to sail across it with no sailing experience, but that is exactly what Torre DeRoche does in her book Swept: Love with a Chance of Drowning. While it might not have been the most practical approach, her adventure certainly makes for excellent reading. DeRoche expertly pieces together adventure, suspense, and a hearty dose of humor to bring us a tale of a woman who will face her greatest fears to follow the man she loves in his quest to find himself. She finds more than a little of herself in the process.
While DeRoche downplays her own courage, from the beginning the reader can tell that she is adventurous at heart. She was living in San Francisco for a year on her own, moving there from Australia to "leave my comfort zone, work in a foreign city, enjoy some uninhibited fun, and return home in one year." Leave her comfort zone, indeed! She falls in love with an Argentinean man named Ivan, who just so happens to be planning a trip around the world in his sailboat, Amazing Grace. When she first finds out, it seems perfect, in her own words, "the best part is, since he's leaving, it's a commitment-free relationship. We can date, have fun, and then go our separate ways." She makes excellent use of irony and foreshadowing, as the reader clearly understands that they, in fact, will not be going separate ways at all, but that Torre is about to get wrapped up in the adventure of a lifetime.
One of the best moments in the book that truly summarized the tongue-in-cheek unwillingness/determination to go sailing with Ivan was when Torre was trying to decide whether she should go on the ocean voyage. "I start thinking about a conversation with my possible future grandchildren. 'Grandma was a graphic designer when she was younger…and guess what, darlings? Grandma almost sailed to a paradise with a gorgeous Argentinean. Almost…' Damn you, possible future grandchildren." This is the moment that we all hope will never happen; the moment that we realize that we have passed up an incredible opportunity in favor of being safe and stable. This is the moment when Torre finally realizes that she has step out, or risk wondering "what if" for the rest of her life, and the moment where she puts out a potent challenge to her readers to do the same.
Hilarity ensues as the story continues through three ill-fated sailing lessons, a trip down to Cabo San Lucas, and their departure across the Pacific. Gwen Hamlin, the book reviewer for the website www.womenandcruising.com says this of the book, "An artist, Torre's word pictures bring alive on the page scenes so many of us have experienced." A travel memoir has never been so much fun and light-hearted. The people they meet and places they see are simply amazing, for many different reasons.
DeRoche spares no detail of her fear and mishaps on the ocean, of her child-like amazement at the wildlife and scenery, and that is what makes the book so good. The human side of this story is tangible. It truly makes you want to experience the thrill of seeing land after days at sea, taste the sweet coconut milk, and sip a drink on the deck of a friend's ship watching the sunset on a tropical island.  You can feel the heartache as she sails away from friends who have adopted her as their own, and you laugh out loud through Ivan's crazy accidents. It inspires the reader to follow their dreams and face their fears the only way you can: head first.