Passive Income: The New American Dream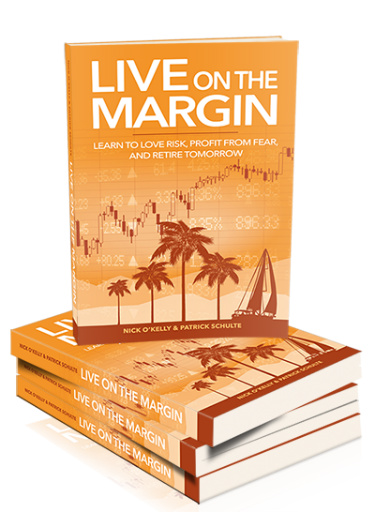 When people, including ourselves, first start looking into cruising there is one big question that everyone wants an answer to and is for some reason difficult to find. How much is this going to cost? aka How much longer do I have to scrounge and save in this boring life before I can gtfo? Most people cruising today count on some form of savings to finance their cruising plans and once that "kitty" (as the community likes to call it) runs out, they have to stop and work either permanently or in temporary jobs until they can keep going. Pat Schulte (of Bumfuzzle fame) and Nick O'Kelly have found another solution: Live on the Margin.
Disclaimer: The book is really good, but remember trading stocks and options isn't like gambling, it is gambling. If you read the book, follow the advice, and lose your butt, don't blame us. We just found the book entertaining.
Pat and Nick have been traveling throughout the world for many years while making money in essentially one way: trading stocks and options in short term trades. And lucky us, they've written a book about it so we can all do the same thing. Now I know what you're thinking, "Really? You want me to read a book about trading stocks? I think I'll just go count the blades of grass in my front yard instead." Normally, I would agree with you, but this book is easy to understand and actually funny. That's right, I said funny. I actually laughed out loud a few times while reading it clandestinely in my cubicle. If you've ever wanted to learn the basics of trading without wanting to blow your brains out afterwards, this is the book for you.
Here are a couple of my personal favorite quotes from the book:
The stock market is brutally sincere when it tells you that it wants to suck every dollar out of you. The guy on the other side of the trade wants your money. He will lead you by the hand and mug you and take your money.
When describing what happens when a "celebrity" stock crashes and takes a long time to go back up:
Nobody wants to dance with the popular kid who just crapped his pants on the dance floor in front of the entire school, and that's the problem you run into with celebrity stocks.
After reading the book I took their advice and opened an account with an online brokerage that allows you to trade fake money as if you were making real trades to help get accustomed to the ins and outs of trading before you start risking real cash. So far, I've learned three things from trying it out myself:
I actually know nothing about stocks. I've had to reread parts of the book a couple of times while looking at a trading platform to figure out how to make it work.

If ice in the veins is what is required for making good trades, I think I might have hot chocolate. So far, I'm waaay too reactive to little things that happen and get hyped up waiting for the market to move. This causes me to make stupid decisions and act like a member of the "anxious herd of sheep" that I'm trying to avoid being.
I'm pretty sure that Dan will be the one doing all the trading in this family.
I'll admit it, I totally suck at trading. I have yet to make any fake money in my lousy trades, but at least I'm learning and not using real cash yet. I just hope I don't run our fake account into the ground before Dan can finish the book!