Book Review: Once Upon a Gypsy Moon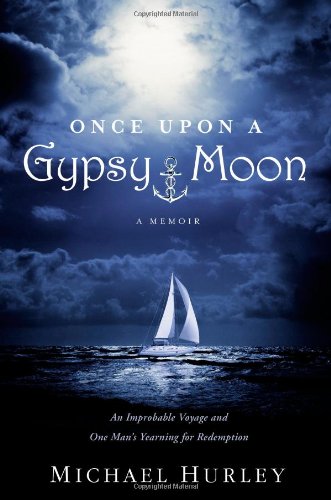 Once Upon a Gypsy Moon is not so much a sea-tale as it is a man's introspective journey into his own motivations, actions, and dreams. While Gypsy Moon (his 32-foot sloop) carried Michael from Annapolis to Nassau and beyond physically, the time he spent single-handing her over that distance carried him much farther emotionally and spiritually. He started his journey lost and lonely after an ugly divorce and ended it as a man with hope for the future.
Here are a few of my favorite quotes from the book:
The world has a way of working itself out, in my experience. There are things unseen. Life is not always easy or pleasant, and it is often unfair, but it seems to unfold according to some plan of which we are only peripherally aware – like a dream, the details of which are vivid only when we are sleeping. We cannot remember- much less comprehend- that dreamworld with the powers of a rational mind.
Sailing has been a love of mine for almost as long as I can remember, and that love endures…But over the years, the idea of sailing long distances over oceans, unobliged to return, became for me less about adventure than escape- a kind of trapdoor beneath the uncertain footing of a marriage and a personal and professional life that seemed at various times to teeter on the brink of collapse… With no escape hatch, we have to face life head-on, admit our weakness, rely on our relationships, and trust others to catch us when we fall.
The insight in the book was compelling, though at times it did get a little dry. The boat journey was somewhat less exciting than the cover lead me to believe as it was mostly individual legs of a trip broken up by repair stops on his old boat rather than a continuous time line. The final chapter entitled "The Loss of the Gypsy Moon" was certainly the most thrilling of the book as *Spoiler Alert* Michael did eventually have to abandon ship during bad weather after a nasty knock-down and subsequent rescue by the US Coast Guard. Maybe someday she will be found and resuscitated but it seemed a fitting end to the tale of a man who no longer needed his escape hatch.
We would like to pass the book on to one of our readers in our first giveway! If you would like the chance to read Once Upon a Gypsy Moon yourself, there are four ways you can earn entries to the giveway:
Subscribe to this blog via email (look for "Receive updates by email" in the right sidebar)

Leave a comment on this post

Follow us on Twitter @sv_horizon
Like us on Facebook https://www.facebook.com/FollowTheHorizon
Each way gets you 1 entry into the drawing, for a maximum of 4 entries. We'll do the drawing next Tuesday evening and announce the winner on the blog next week! Hope to see your name!
 (In March, we were contacted by Center Street book publishers to do a review on a new memoir that they released on April 16 called Once Upon a Gypsy Moon by Michael Hurley. We agreed, so they sent us a pre-release copy of the book that for some reason we didn't receive until a couple of weeks ago. This is the first time that we have been contacted to do a review so we're pretty excited that we are starting to pop up on the radar of the sailing blog world.)