My Car and I Went Diving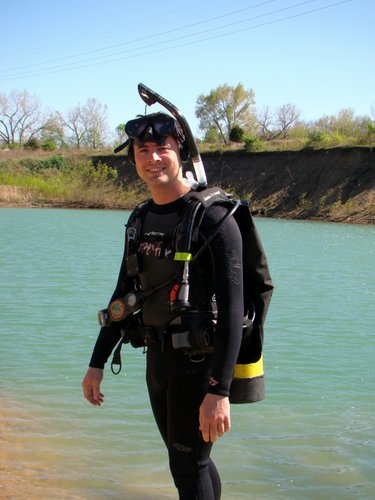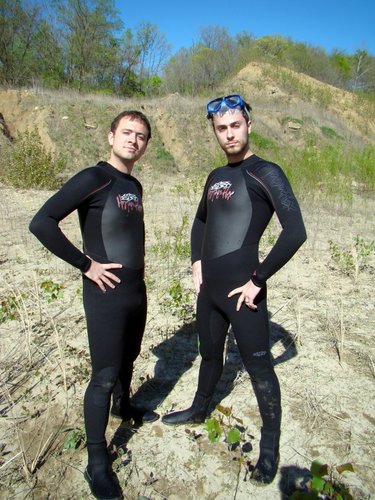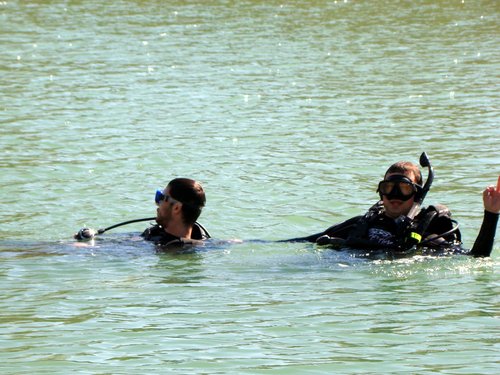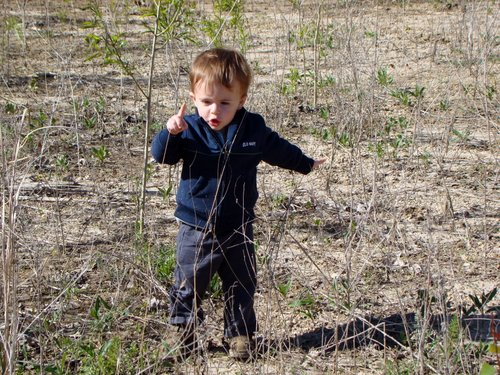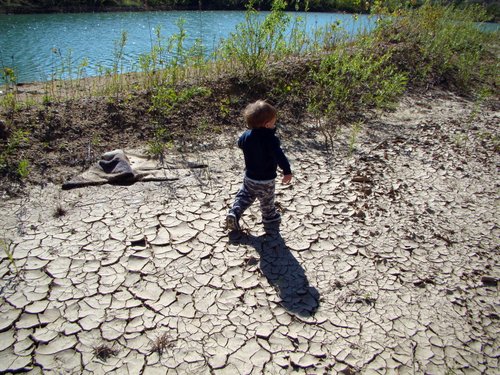 So last weekend I thought it'd be a good idea to put my new SCUBA gear through its paces and acclimate myself to the new underwater goodies… I think God is testing me,  making sure I have enough perseverance to succeed in the cruising life. My first sailing experience on the MacGregor wasn't exactly encouraging. This diving experience wasn't either. Let me add a disclaimer that absolutely nothing went wrong with the actual diving, gear, dive safety, anything like that. A lot else went wrong, however.
Some family friends were gracious enough to let Kyle (my middle brother) and I use their backyard rock quarry lake for our shakedown dive. Kyle and I met at my house and laid out our gear, dry tested it, etc before heading to the lake. Once we got to the lake we found out the wet winter had now made parts of the dirt road leading to the lake resemble the Bad Lands of the American west (think canyons, big ones). It'd be a walk. A long one. With SCUBA gear and tanks. We eventually got to the lake and suited up in our shiny new wet suits when Kyle says "Oh shit." Now, some of you may remember from my first sailing experience that "Oh Shit" seems to follow my preparations for the cruising life. It continued. Kyle had forgotten the bag with his fins at my house. No biggie, our parents were getting ready to leave our family ice cream store down the road. They said they'd be able to drop his fins off for us. What they didn't say was that it was going to be another 45 minutes. If you've never been SCUBA diving just know that you can't really move without fins on. We finished gearing up and jumped in the water. We figured we could at least try out the regulators (part you breathe from) and the wet suits while we waited. And waited. And waited. You can see me towing finless Kyle in the third picture above. Well after about 30 minutes in 60 degree water we decided to take a break and warm up on the shore (see our sexy photos above or our flickr photostream for more. You might also notice Carter is wearing different pants and shoes in some pictures. He wanted to go swimming too.).
Kyle eventually got his fins and we were able to begin the dive in earnest. We expected cold water and 60 degrees definitely qualifies as cold, but it isn't too bad with a wet suit on. We didn't expect to encounter a thermocline at 15 feet down with Antarctica waiting to freeze us out below. For those that don't know, a thermocline is a steep temperature gradient in a body of water such as a lake, marked by a layer above and below which the water is at different temperatures. WAY different temperatures in this case. I didn't stay below the thermocline long enough for my computer to register the temperature but I'm guessing low 40's. It was a bummer, but it was still possible to test out our gear and do some minor exploring in the lake above 15 ft.
We finished the dive and began drying off. That's when I realized Kyle wasn't the only one to forget something at my house before we left for the lake. I had forgotten the bag with my change of clothes and extra towels. My parents were gracious enough to make the hike back to the car and go pick up the bag for me.
Dried off, with new clothes on we head out. Backwards, because there wasn't enough room to turn around on the road between the cliff and the forest. Then we abruptly stopped. It turns out that I had forgotten to swerve around a 3 foot deep model of the grand canyon and now had my rear passenger wheel hanging in the gap. Glorious. We tried and failed to push, pull, drive, rock, lift, beg, plead the car out of the abyss with no luck. A quick call to my dad and a bruised ego later he had pulled my car out with his truck. Thankfully, European cars have this cool little door on the front bumper that you can hook up a tow hook to. We had fun, we wrecked a car, we froze, etc… what more could you want on a Friday night.