Money: The Root of All Evil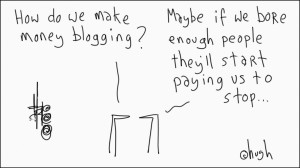 So, we all know that to live in this modern world of ours, we need money. Money for food, shelter, and basic necessities, like coconut rum. Of course, the continual quest for money is also the biggest reason why Dan and I want to get away from our current life. This leaves us with the quintessential cruiser's question: How do I get enough money to live and keep my boat afloat without sacrificing my freedom?
In researching this issue, we have found that the average monthly expenses for a moderately comfortable cruising experience will probably range between $1000 and $1500. We're not looking to "go Hobo" (in reference to the great and venerable Hobo Sailor, who is inspiring in his no money approach), but simply interested in a realistic budget for a small family of three trying to conserve as much as possible while still having some amenities.
The trouble is, while a few cruisers are kind enough to provide good monthly budget information, almost no one talks about how much of a kitty they started out with. We've decided that this is probably because everyone thinks that if they put out there how much they are "thinking" about starting out with, they make themselves vulnerable to all the cranky internet trolls out there just waiting to tell people that they certainly do NOT have enough money to leave, when in fact, everyone who has ever actually accomplished the leaving part generally says they wished they would have gone sooner.
Therefore, here is our financial plan for the next couple of years that we think will get us out of Illinois and into the ocean.
1. Pay off student debt. This one we have almost accomplished, as we are now down to about $3000 left,
finally.
2. Pay off our car loans. With our current ETA being about 3.5 years down the road, we know that we could just continue paying our normal payments and our cars would be paid off when we leave. However, every dollar spent on loan interest is another dollar not gaining interest in our bank account, and in this game, every penny counts. Also, we expect our two cars to be worth somewhere in the $10,000 range when we sell them, giving us $20,000 in cash.
3. Save at least $50,000 in cold hard cash. Well, not exactly cash, it will be making
hopefully
some decent interest in our Fidelity investment accounts until we need it with a 60/40 stocks to bonds allocation ratio. Our current budget allows us to save around $1200/month. Add in the extra once our cars and student loans are paid off, and we should more than reach that goal.
4. Keep adding equity to our house. This one is fairly straightforward: pay the mortgage. Based on the current value of our house, we are hoping to get $70,000-$80,000 in cash when our house sells, which we intend to put entirely into our boat purchase so that we don't have to pay any taxes on it.
That's basically the plan, $70-80k to spend on a boat purchase/original outfitting and repairs and $70-80k to live on. Using $1200/month expenses and a very conservative interest rate of 4.0% on $75,000, that money will last us almost 6 years with 0 additional input from us. Add in Dan's plan to become a certified PADI instructor, and his IT experience, we're hoping to not be hindered from living the life as long as we love it.