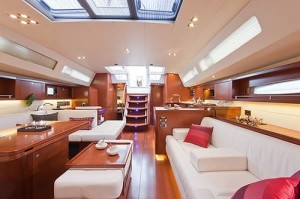 The interior of a Beneteau Oceanis 45 looks inviting and livable.
So its the middle of February in Illinois… about as far from the sailing life as you can imagine. To keep our spirits up we visited Strictly Sail Chicago at the end of January. There were quite a few useful seminars on cruising. Of particular interest was Jimmy Cornell's seminar on World Cruising Routes. For those of you who don't know, Jimmy is the author of World Cruising Routes
 which is the best selling cruising atlas of all time. This guy knows what he's doing. His main point was to make sure that you are in the right place at the right time and not in the wrong place at the wrong time. Seems obvious, but he is extremely detailed in his seminar about which months have the best winds to travel any part of the world.
Strictly Sail Chicago also has quite a few boats on display (for indoors, at least) that we were able to look through. To be honest I was quite disappointed in the Island Packet Estero. At over $350,000 and only 36ft, you don't get very much boat for the money. In fairness the boat does not feel like 36ft inside but it didn't compare to the much cheaper an larger Beneteau Oceanis 45. Cruising World Magazine
's newest edition actually has a wonderful review of this newly designed boat. I must say that I am impressed. The owner's cabin features a queen sized bed with plenty of storage. Two heads, ample storage space, and you don't feel like you are in a sardine can while in the cabin! For cruising features it has a larger than average 151 gallon water tank but a quite small 21 gallon holding tank. I am not sure if that's an issue for crusing or not… just thinking out loud.
That's it for now… hopefully the weather breaks soon and I can start accruing dives for my divemaster training and get some sailing experience!