Mid-Week Musings: Convenience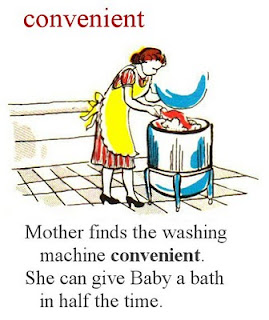 So, last night I was getting a glass of water for myself after dinner from our refrigerator. We have an ice maker which has a dispenser on the freezer door for our "convenience". The problem is that it actually isn't very convenient at all. In fact, I stood at my freezer door for a good thirty seconds and had exactly 3 pieces of ice plop into my glass. I realized, as I was standing there dehydrating, that it would have been significantly faster to just open the freezer door and scoop the ice out manually. The funny thing is, our ice dispenser has been this slow for the last 4 years, and I still continue to sit and wait for each piece of ice to make its way into my glass.
This got me thinking about the illusion of convenience. How much time and money do we spend for something to be more convenient, when it would have been faster and easier to do it the "hard" way? Our dishwasher is another good example: I completely clean off all of my dishes in the sink before I put them in the dishwasher because I don't trust it to wash my dishes properly. Then what is the point of the appliance I continue to use every day?
Sometimes it's just too easy to get suckered into the marketing tactics that say the newest gadget will help you save time because we agree with the basic assumption. You need more stuff to deal with the fact that you don't have enough time. Personally, I know I don't have enough time, that's why I want to get rid of the stuff.