Last week Dan and I finally made time to get to the driver's bureau to get our official Florida driver's licenses. Along with that came the ability for him to finally get a Florida-resident fishing license, something he's been wanting to do since we first moved down. Now we can start making a dent in the bout with Davy Jones!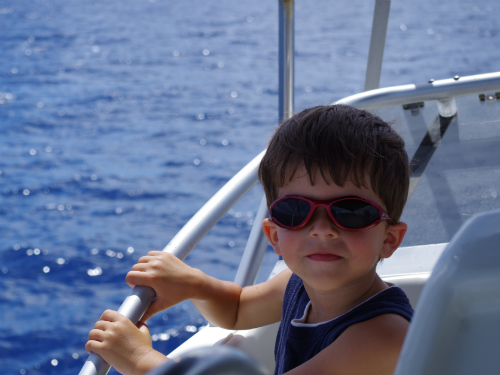 Our first attempts were with our friends Bill and Mary on their fishing trawler, the Mary Gannon. We spent two beautiful Saturdays with them out on the ocean hunting for Mahi but unfortunately weren't able to land any fish for dinner. We certainly wouldn't consider our time wasted however, with the excellent company and great weather we had both days.
Our first catch was claimed by Carter on the docks near our boat. He and Dan were finishing up fishing before dinner when suddenly Carter yelled, "Daddy, where's my bobber?" Dan assumed that Carter's line had just gotten tangled around the dock but as he reached for the pole, he realized that there was a fish on! In fact, it was too big for Carter's Spiderman fishing pole to reel in so I had to find the lobster net to get Carter's first catch onto the dock.
Carter was unbelievably excited at catching his first fish ever, as is only proper for a little boy.  He was running around the docks grinning from ear to ear, telling every passerby his fish tale. He was supremely disappointed to learn that we would not be gutting and eating his lovely catfish but releasing it back into the water. I guess he was looking forward to the sweet taste of victory.