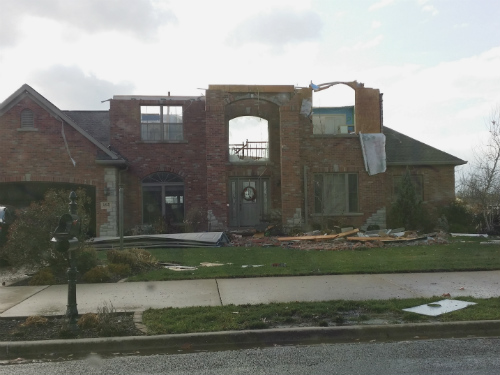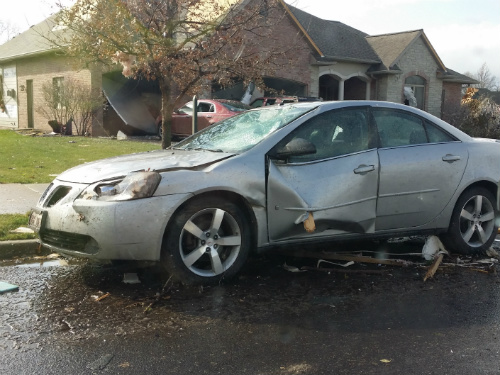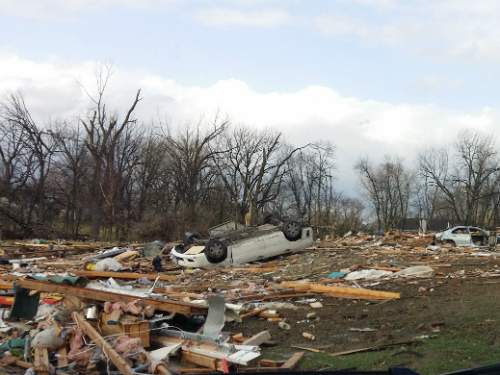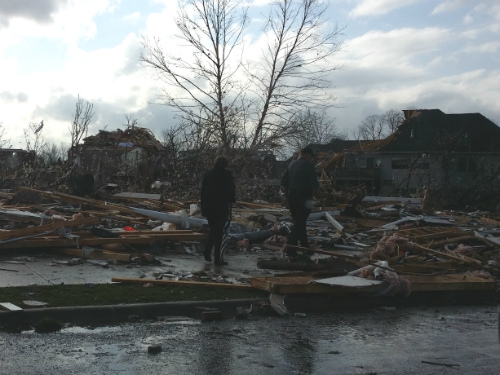 As some of you may have seen on the news, this last Sunday an EF4 tornado swept through Washington, Illinois only a 15 minute drive from our home. Hundreds of houses were severely damaged or destroyed, but miraculously only 1 person was killed. None of our family's homes sustained any damage or injuries, but we do have friends and coworkers whose lives have been significantly disrupted from the storm.
Dan was teaching an Open Water scuba class at the health center in Washington when the sirens went off. Everyone was quickly directed to the locker room areas where the building was the best fortified for emergencies. As the tornado passed, the power in the building went out and Dan could hear the roaring, screeching sound of the monster storm rushing by. A huge crash resounded through the building, which he later discovered was from a cement block wall being knocked over in the addition that was being built on the center.
Dan didn't realize how extensive the damage really was until later when he tried to drive home. Everywhere he went, there were downed power lines, trees, and homes with roofs blown off. Eventually, he came to the worst hit area where the homes had been completely demolished, almost as if a bomb had gone off. Where there were once whole neighborhoods, all the remains is a giant trash heap that people somehow have to sift through to try and salvage whatever they can. It took him almost 3 hours to navigate through the traffic and wreckage to get home. The pictures above were taken during that time.
I don't know if there is anything that can humble a person more quickly than to come face to face with the awesome forces of nature. Tornadoes are no respecters of persons. In an instant they have the power to sweep away everything you own, without a thought. Our lives are fragile and each moment is a gift.
*If you would like to help this community, please consider donating to the Salvation Army or the Red Cross disaster relief funds.